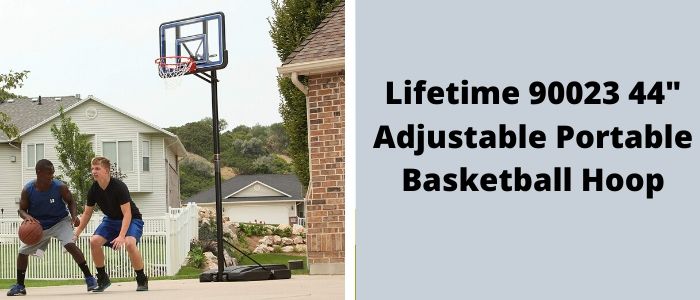 Lifetime 90023 44″ Adjustable Portable Basketball Hoop System Reviews
In search of a cost-effective basketball hoop for family entertainment? Or do you want a goal system that will meet your home basketball practice purpose within the small driveway without breaking the bank? Either way, the Lifetime 90023 basketball system will be the ideal pick for you
Lifetime 90023 portable basketball system, 44 inch backboard is well appreciated for it's classy & professional look. This 44 inch shatterproof polycarbonate made fusion backboard makes the hoop long lasting. A classic orange color rim is made of solid & durable steel. It has a circumference of 18 inch. Incase of bad weather, you don't need to pull your hair out thanks to all weather nylon net feature. Now, you can definitely enjoy playing basketball in every season of a year
Lifetime always comes up with quality basketball hoops that can be played by both beginners and seasoned players. Two most fascinating features of the Lifetime 90023 portable basketball system are the adjusting pole and portable base. They will take care of everything that you need to place the hoop perfectly in your backyard. Comfort and family enjoyment will be at it's best and with this hoop there is plenty to cheer about
It is one of the top rated portable hoops due to it's advanced and professional features. And why it is included as one of the most sold basketball systems in amazon, I think that is needless to say
Below Sportszpro team is going to review this Lifetime 44 inch portable basketball hoop in details: it's specifications, pros and cons literally everything
Backboard:
A tough, professional looking backboard can withstand your continuous shooting practice, serious rebounds and harsh elements. Polycarbonate made backboard is virtually unbreakable. Infact, polycarbonate board has proved to be an excellent playing surface for rebounding. The shatterproof fusion technology prevents from complete breakdown. Infact, it provides safety and makes the gameplay really enjoyable.
Furthermore, the backboard is highly resistant to water, light and heat. That means you can make full use of the hoop for a long time without changing it frequently
​

Height Adjustment:
Like to play hoops with your cousins? Yes, they aren't of the same age. But here you can easily adjust the height of the hoop from 8 inch to 10 inch. So, this height adjustment meets the demand of both adults and kids. The mechanism requires a pole or broom to operate. Through this quick adjustment II mechanism, you can lower the goal to 8 inch so that kids can reach the height to play basketball. And the highest setting of 10 inch is a perfect match for adults as well
​

Rim and net:
​There will be double compression springs on this solid steel rim with ½ inch braces. This lifetime 44 inch portable basketball system will give you the feel of playing with pro-level rim. It is available in both red & orange color. Besides, the rim has also got powder coated finish for protection against elements
An important thing to note here. The rim isn't likely to support dunking and hanging. This is more of a shooting hoop than anything else
​

Pole:
​The pole of a basketball hoop must be strong enough to hold the pressure of the system. Because, this is what will keep your basketball goal firm, nice still & stable while playing. This is a 3-piece round steel pole with 3 inch diameter. Materials made the pole in such a compact fashion that can withstand any weather. This weather resistant finish makes this powder coated pole system sturdy enough for daily usage
​

Maximum Portability:
​31 gallon base is going to bear all the load of the system on it's shoulder. You need to fill the base with water or sand. This Lifetime 44 portable basketball system is nothing short of quality and leakage proof plastic base shall make the hoop really sturdy to sustain a healthy competition among your friends and family
You can easily shift from one place to another by rolling the wheels attached on the base. One simple tips don't try to move it when the base is full of water or sand. Otherwise easy to move
Simple assembly & nice instructions:
​Nobody likes to go through a complex assembly. Who wants to face this trouble just after purchasing a hoop?
But with this 90023 Lifetime portable basketball system, the instructions are easy to follow. It may take you about an hour and a half to build. Of course you need a helping hand. Adjusting the height up and down is easy as well. So, no worries at all

Main Features
1. 44" X 30" X 2" backboard, 3 piece 3" steel pole system
2. 5/8 ring of solid steel
3. ½ steel braces & classic rim
4. Nice distance between pole and backboard set
5. Quick adjust II height adjustment from 8"-10" through broomstick, 6 inch increments
Frequently Asked Questions

1. Can adults use the basketball hoop?
​- Yes certainly, they can. But you don't want them to dunk or hang on the rim. Rather, it will let adults to have some fun with kids
2. ​How to assemble this lifetime 90023 hoop?
- Fix the 3-piece pole, attach the rim and then the backboard. Now, fill the base completely with water or sand. Now, your hoop is ready and probably roaring to get started. Instructions are quite good and videos on YouTube can help you a lot. We strongly believe most of the people will be able to put it together well under 2 hours

3. Will it be okay for a 10 year old kid?
- Definitely, the rim can be adjusted from 8 feet to 10 feet and it will grow with your kid. He will have lots of fun in the years to come
Want to become an NBA star in future? Therefore, it is a no brainer you need to take the game seriously right from the initial stage. And what better way to start your journey than with this budget friendly quality portable hoop system like Lifetime 90023 basketball goal
If you are looking to purchase a hoop system that can give you proper value for your bucks, then lifetime 90023 will get the nod first